R.X. "Bob" Bertoldi: • Home

IN SUPPORT of MARCH FOR OUR LIVES - May 24, 2018:

Click HERE for a FREE MP3 of my song:

"When the Bullets Fly"



Watch, listen and read how
"The numbers don't lie..."

HERE



RX. Bertoldi releases NEW ALBUM:
STRONG ROOTS & READINGS
A tribute to several of his favorite songwriters and musicians – including 5 previously unreleased tracks!

Available at

i-Tunes

,

CDBaby.com

, and

Amazon.com

!

Hear FREE samples now by clicking on card catalog image below:




Album Review at ALTERNATE ROOT:

"...While the songs are familiar enough to be included as the fabric for many lives already, R.X. Bertoldi breathes new life into the tracks with a vocal warmth and a blast of energy as he covers Randy Newman, "You've Got a Friend in Me", John Hiatt, "Slow Turning", and doubles down on The Rolling Stones, giving an Americana makeover to "Beast of Burden" and "Get Off of My Cloud"."


ALBUM REVIEW AT Rooted Sounds:

"Strong Roots & Readings, the new LP from R.X. Bertoldi, is a solid tribute to legends like Dylan, Rolling Stones, Waits, or JJ Cale, precisely through a solid and brilliant rock, inspired by those heroes...The music of Bertoldi imprints energy and vitality in your being and infuses renewed blood into your veins..."

Follow Bertoldi Music now on Spotify:


R.X. Bertoldi's version of JJ Cale's classic tune "After Midnight" named one of the Top 10 Americana Song Releases for week of September 20-27th by folks at Alternate Root!
R.X. Bertoldi (w/full band) releases Italian version of his song – "Caffè Nero La Mattina" and four other new digital singles!
1. August 8: "You've Got a Friend in Me" - Cover of Randy Newman's classic jazz/kid's tune.

2. August 9: "After Midnight" - Cover of JJ Cale's classic Rock-n-roll tune.

3. August 10: "Everything They Stole" - New blues/rock groove and tale of one man's retribution.

4. August 11: "Black Coffee in the Mornin'" - Original re-recorded 22 years later, with full band this time!
R.X. & Son's "Rudolph" now on Pandora!
R.X.'s "Every Christmas Tree" – Finalist in the Great American Song Contest!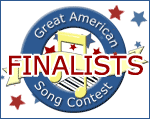 R.X.'s "Solid Ground" receives Honorable Mention in singer songwriter category of the Indie International Songwriting Contest!

R.X. Bertoldi & Son Release Two New Studio Tracks: Solid Ground & Slow Turning
R.X. Bertoldi & Son's first studio EP
Taking Back the Time was on
the Americana Music Radio Chart
for over eight months running!
Thanks to all the supportive DJs & listeners!
Their New EP is is available at

iTunes, CDBaby.com, Amazon.com, and
also on Pandora!
Visit & "Like" R.X. & Son on Facebook here!

Great review from pro music critic here!

Also, R.X's tribute song to his

dearly departed mother, the acoustic mp3-single

titled, "Your Bright Lights Fade" is also available

at i-Tunes, CDBaby.com, Amazon.com and via the

Facebook Music Store.

Youtube video of R.X.

recording the Faces' hit

"Ooh La La" in the studio.





____________________________________


More R.X. Bertoldi videos here!

____________________________________


R.X. releases new

-- LIVE in the studio --

MP3 track on June 26th!

Click on the hat below to hear a clip

of R.X.'s version of this 60's

Pop hit by the Rolling Stones!

Available for download at CDbaby.com,

i-Tunes, and Amazon.

___________________________________________________
"Step Up to the Present"
Bertoldi's first full band studio album!

To hear free samples of the new songs, and/or

purchase individual MP3 tracks or the full CD,

click on record jacket below.





His song, "My Closest Friend" earned him a

Western Regional Finalist Award in the

2013 Mountain Stage New Song Contest!

To hear a sample, simply click here.
___________________________________________________
R.X. Bertoldi on the Radio:

Listen to R.X. Bertoldi on Pandora!


Click here to request his song"Black Coffee in the Mornin'", or his

cover of the Faces' song "Ooh La La" on XM/Sirius Satellite Radio

Request R.X. on L.A.'s Indie Radio 104!
All of Bertoldi's works are available here: cdbaby.com

Digital downloads are also available here: i-Tunes

google-site-verification: googleecd9e6b6608974ea.html